Pengenalan
Tutorial ini akan tunjukan kepada anda persediaan untuk memulakan Beginner set for Raspberry Pi 3B+. Raspberry Pi adalah sebuah komputer kecil yang boleh melakukan pelbagai projek denganya. Beginner set ini lengkap dengan Sensor dan kamera yang dapat membantu anda untuk membuat projek-projek lain selepas ini.
Dalam tutorial ini, anda akan belajar bagaimana untuk menyambungkan Raspberry Pi untuk menjadi sebuah komputer.
PERALATAN DIPERLUKAN
Barang di dalam Kit :
Barang tambahan:
Monitor
USB Papan kekunci dan tetikus
Headphones atau speakers (Pilihan)
Kabel ethernet (Pilihan)
PERISIAN DIPERLUKAN
Raspbian, dipasang melalui NOOBS
NOOBS adalah salah satu cara termudah untuk memuatkan Raspbian pada SD card anda. Sekiranya anda tidak mempunyai SD Card yang telah dimuat naik dengan NOOBS anda boleh berbuat demikian dengan hanya mengikuti langkah yang tertera di sini.
Meet the Raspberry Pi
Let's take a look at the Raspberry Pi. You should have a Raspberry Pi computer in front of you for this. It shouldn't be connected to anything yet.
| | |
| --- | --- |
| USB ports | Digunakan untuk menyambung tetikus dan papan kekunci. Anda juga boleh menghubungkan ia dengan komponen yang lai, sebagai contoh pemicu USB. |
| SD card slot | Masukan SD card ini disini. Sini adalah dimana operating system software dan files anda disimpan. |
| Ethernet port | Digunakan untuk menyambung Raspberry Pi kepada rangkaian internet dengan menggunakan cable.Raspberry Pi juga boleh disambungkan dengan rangkaian internet tanpa wayar LAN. |
| Audio jack | Boleh digunakan untuk menyambung headphones atau speaker. |
| HDMI port | Digunakan untuk menyambungkan monitor (atau projector) yang anda gunakan untuk memancar keluar bahan dari Raspberry Pi. Jika monitor anda mempunyai pembesar suara, anda juga boleh menggunakannya untuk mendengar bunyi. |
| Micro USB power connector | Di sinilah anda menyambung bekalan kuasa. Anda harus selalu melakukan ini setelah anda menyambungkan semua komponen anda yang lain. |
| GPIO ports | Ini membolehkan anda menyambung komponen elektronik seperti LED dan butang ke Raspberry Pi |
SAMBUNGKAN RASPBERRY PI ANDA
Sekarang mari kita sambungkan Raspberry Pi anda dan jadikan ia berfungsi.
Masukkan Kad SD dengan NOOBS ke slot kad SD.
Cari penyambung USB untuk tetikus anda, dan sambungkan tetikus ke salah satu port USB pada Raspberry Pi (tidak kira yang mana satu).
Sambungkan papan kekunci dengan cara yang sama.
Lihatlah port HDMI di Raspberry Pi – perhatikan bahawa ia mempunyai sisi rata yang besar di atas. Sambungkan port HDMI ke Raspberry Pi.
Pastikan monitor anda dipasangkan ke soket dinding dan dihidupkan.
Sambungkan kabel monitor ke port HDMI Pi – gunakan penyesuai jika perlu. Tiada apa yang akan dipaparkan lagi.
Jika anda ingin menyambungkan Pi ke internet melalui Ethernet, gunakan kabel Ethernet untuk menyambungkan port Ethernet pada Raspberry Pi ke soket Ethernet di dinding atau di penghala internet anda. Anda tidak perlu melakukan ini jika anda menggunakan WiFi atau jika anda tidak mahu menyambung ke internet.
Bunyi akan datang dari skrin anda jika ia mempunyai pembesar suara atau anda boleh menyambungkan fon kepala atau pembesar suara ke bicu audio jika anda mempunyainya.
Notice that the micro USB power port has a long flat side on top. Plug the power supply into a socket and connect it to the micro USB power port.
Anda harus melihat lampu merah pada Raspberry Pi.

Sekarang kita akan memasang Raspbian dengan NOOBS

Di monitor anda, anda akan ditawarkan pilihan apabila pemasang telah dimuatkan. Anda perlu menyemak kotak untuk Raspbian, dan kemudian klik Install.
Klik Ya pada dialog amaran, dan kemudian duduk dan berehat. Ia akan mengambil sedikit masa, tetapi Raspbian akan memasang.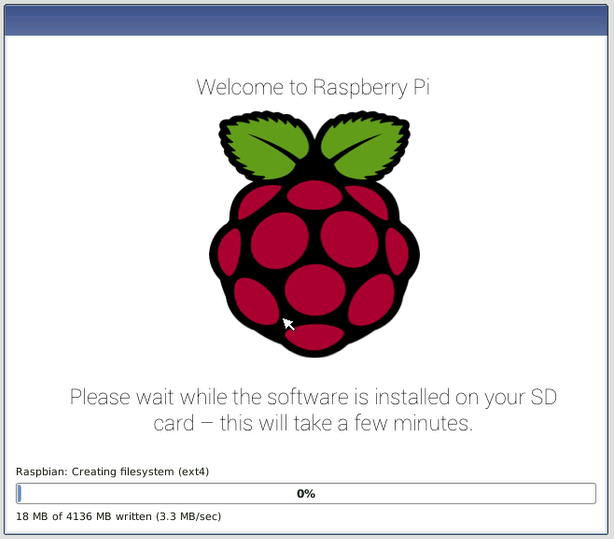 Apabila Raspbian telah dipasang, klik OK dan Raspberry Pi anda akan dimulakan semula dan Raspbian kemudian akan boot.
Apabila anda memulakan Raspberry Pi buat kali pertama, Welcome to Raspberry Pi aplikasi akan muncul dan membimbing anda melalui persediaan awal.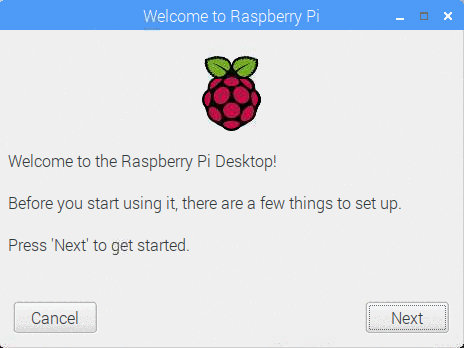 Klik Seterusnya untuk memulakan persediaan
Tetapkan Negara, Bahasa, dan Zon Waktu anda, kemudian klik Seterusnya lagi.
Masukkan kata laluan baru untuk Raspberry Pi anda dan klik Seterusnya.
Sambungkan ke rangkaian WiFi anda dengan memilih namanya, memasukkan kata laluan, dan mengklik NEXT.
Klik NEXT biarkan wizard menyemak kemas kini untuk Raspbian dan pasangnya (ini mungkin mengambil sedikit masa).
Klik Selesai atau Reboot untuk menyelesaikan persediaan. Nota: anda hanya perlu reboot jika perlu untuk menyelesaikan kemas kini.
Ini adalah desktop grafik yang muncul.
Introduction
This tutorial will show you how to get started with the Beginner Set for Raspberry Pi 3B+. The Raspberry Pi is a small computer that can do lots of things. This beginner set is the basic set complete with the sensor and camera that you may need in the next project.
In this tutorial, you will connect up a Raspberry Pi computer.
Hardware Required
Included in the kit
Not included
Monitor
A USB keyboard and mouse
Headphones or speakers (optional)
An ethernet cable (optional)
Software Required
Raspbian, installed via NOOBS
Using NOOBS is the easiest way to install Raspbian on your SD card. If you are not having the SD Card with NOOBS, you may follow the instruction to download here.
Meet the Raspberry Pi
Let's take a look at the Raspberry Pi. You should have a Raspberry Pi computer in front of you for this. It shouldn't be connected to anything yet.
| | |
| --- | --- |
| USB ports | Used to connect a mouse and keyboard. You can also connect other components, such as a USB drive. |
| SD card slot | Slot the SD card in here. This is where the operating system software and your files are stored. |
| Ethernet port | Is used to connect the Raspberry Pi to a network with a cable. The Raspberry Pi can also connect to a network via wireless LAN. |
| Audio jack | Can be used to connect headphones or speakers here. |
| HDMI port | To connect the monitor (or projector) that you are using to display the output from the Raspberry Pi. If your monitor has speakers, you can also use them to hear the sound. |
| Micro USB power connector | This is where you connect a power supply. You should always do this last after you have connected all your other components. |
| GPIO ports | These allow you to connect electronic components such as LEDs and buttons to the Raspberry Pi |
Connect your Raspberry Pi
Now let's connect up your Raspberry Pi and get it running.
Insert the SD Card with NOOBS to the SD card slot.
Find the USB connector for your mouse, and connect the mouse to one of the USB port on the Raspberry Pi (it doesn't matter which one).
Connect the keyboard in the same way.
Look at the HDMI port on the Raspberry Pi — notice that it has a large flat side on top. Connect the HDMI port to the Raspberry Pi.
Make sure your monitor is plugged into a wall socket and turned on.
Connect the monitor cable to the Pi's HDMI port — use an adapter if necessary. Nothing will display yet.
If you want to connect the Pi to the internet via Ethernet, use an Ethernet cable to connect the Ethernet port on the Raspberry Pi to an Ethernet socket on the wall or on your internet router.

You don't need to do this if you'll be using WiFi or if you don't want to connect to the internet.

The sound will come from your screen if it has speakers or you can connect headphones or speakers to the audio jack if you have them.
Notice that the micro USB power port has a long flat side on top. Plug the power supply into a socket and connect it to the micro USB power port.
You should see a red light on the Raspberry Pi.
Now we are going to install Raspbian with NOOBS
On your screen, you will be offered a choice when the installer is loaded. You should check the box for Raspbian, and then click Install.
Click Yes at the warning dialog, and then sit back and relax. It will take a while as the Raspbian install.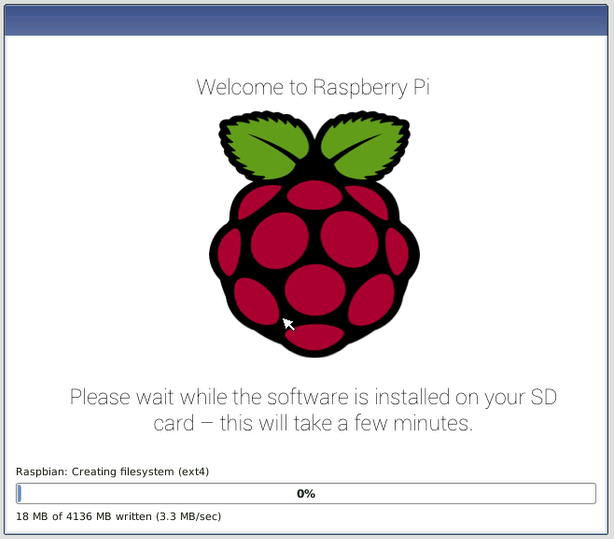 Once Raspbian has been installed, click OK and your Raspberry Pi will restart and Raspbian will then boot up.
When you start your Raspberry Pi for the first time, the Welcome to Raspberry Pi application will pop up and guide you through the initial setup.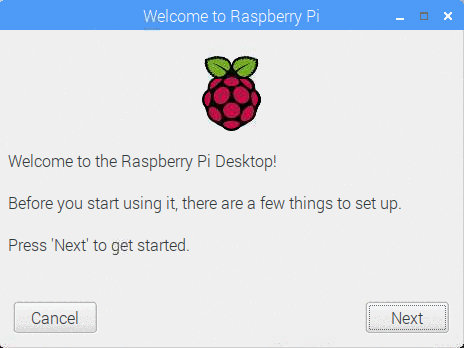 Click Next to start the setup.
Set your Country, Language, and Timezone, then click Next again.
Enter a new password for your Raspberry Pi and click Next.
Connect to your WiFi network by selecting its name, entering the password, and clicking Next
Click Next let the wizard check for updates to Raspbian and install them (this might take a little while).
Click Done or Reboot to finish the setup. Note: you will only need to reboot if that's necessary to complete an update.
This is the graphical desktop that appears.